Learn Accounting Online for Free
Learn accounting with free lessons from Accounting Play. We make educational materials for first year accounting students and professionals.
Learn Accounting Faster and Easier
Accounting is the language of business. In other words, money talks and balance sheet walks. Understanding accountancy is a major part of financial literacy and being able to understand more about money and business.
Choose from over 20 lesson topics to get started. Each topic contains with audio & video image
Need to find accounting terms? you can search it through here, with full explanation & visual image
Help you to improve and learn accounting faster, with more than 15 quiz topics
Accounting Cheat Sheet and Materials
Sharpen your knowledge with our accounting cheat sheet. More than 25 topics in one pdf file. The topics include accounting equation, T-accounts and journal entries, general ledger accounting, debits and credits, depreciation terms, depreciation methods, and many more.
Downloadable materials include academic papers in Word, Excel, and PowerPoint formats (all copyrighted by John Gillingham). First-year professionals can use the material to focus on trouble areas or for study if assigned new responsibilities.
Learn Accounting Faster and Easier
Learn financial accounting, debits & credits, and business tax easier with flashcards, mobile apps, and games. Learn accounting anytime and anywhere. AccountingPlay will help you learn in a fast and fun way. Available on iOS and Android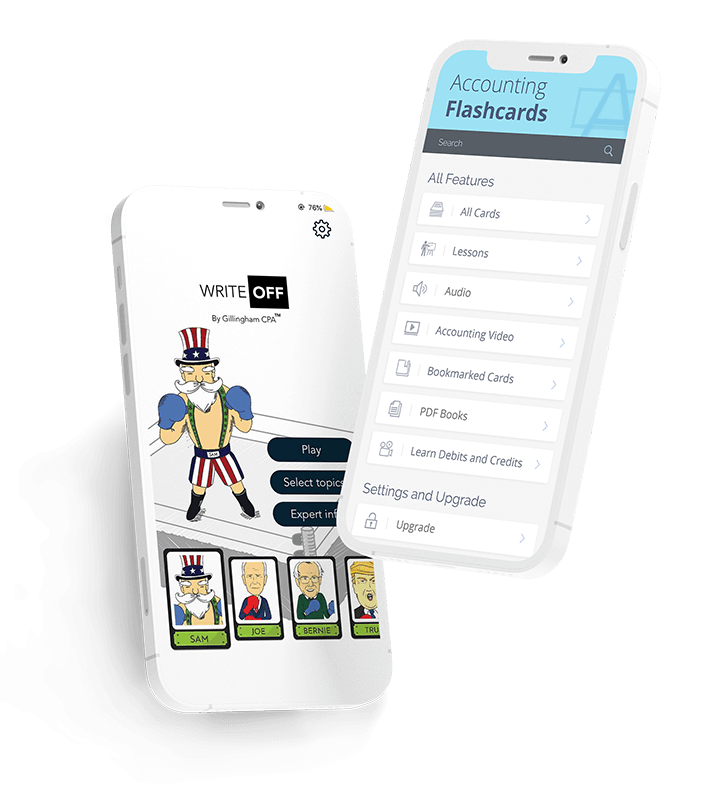 One Time Payment. Lifetime Access.
Learn more comprehensively about debits and credits, financial accounting, Excel fundamentals, business tax prep & plan, CPA tax prep, and how to start and grow your business right. Get access to all of our books, spreadsheets, academic papers, cheat sheet, audio vault, videos, and more.